Yods in Astrology
Yod is an astrological aspect that has 2 quincunx (150 degrees) and 1 sextile (60 degrees) forming a narrow triangle. It is also called the "Finger of God".   Quincunx is an aspect between 2 planets that are not quite compatible in any way so the only manner they can work together is by adjusting and accepting.  Rationale and left brained kind of thinking does not apply here. So quincunx can be as difficult as a square  or easy as a trine. It is hard to navigate it through force or pressure.  When you have something in your life, whether it is a relationship or a business that kind of works – sometimes good and sometimes not so good – but cannot be easily steered in any one direction,  then it is probably propelled by a quincunx energy. A Yod pattern is a bit more connected than a quincunx  as it has a sextile aspect as part of the pattern,   and which can facilitate communication and bring in opportunities.   The Yod in Astrology can create events, incidents, relationships etc, that occurs in a person's life not out of their choice but in a karmic manner. These circumstances usually come as an opportunity and eventually turn out to be a blessing or a curse.  
A Yod can bestow gifts like a talent or a higher intelligence, bring about an unusual situation or sharp turns in life that cause steep ups and downs. The overlapping factor in all these instances is that the person doesn't have much control over what can  occur and it can be negative or positive. Real or imagined, there is a feeling that another force behind is controlling the show.  During these incidents when a person realizes their extraordinary gift, or when one suddenly becomes rich or poor, or when they find themselves in very unusual circumstances, there is usually a transit or progression that triggers the Yod energy, and the planets, sign and area of the chart  involved in the Yod and those involved in the transits  determines the nature of the outcome.
Yods show up in unusual situations
 On October 10, 2014 both Malala Yousafzai and Kailash Satyarthi were awarded the nobel prize. Both of them have Yods that involve Jupiter and Sun, a combo that usually bestows success and certain kind of protection,  and hence were rewarded (without any input from either of them) for their good deeds. Malala has Sun, Jupiter and North Node forming a Yod with Jupiter at the apex and the Satyarthi has Jupiter Sun and Pluto form a Yod with Sun at the apex. With this aspect, fame just came to them for a good reason. They didn't have to go after it.  Given below is the chart of  Malala showing her natal Yod (in yellow line)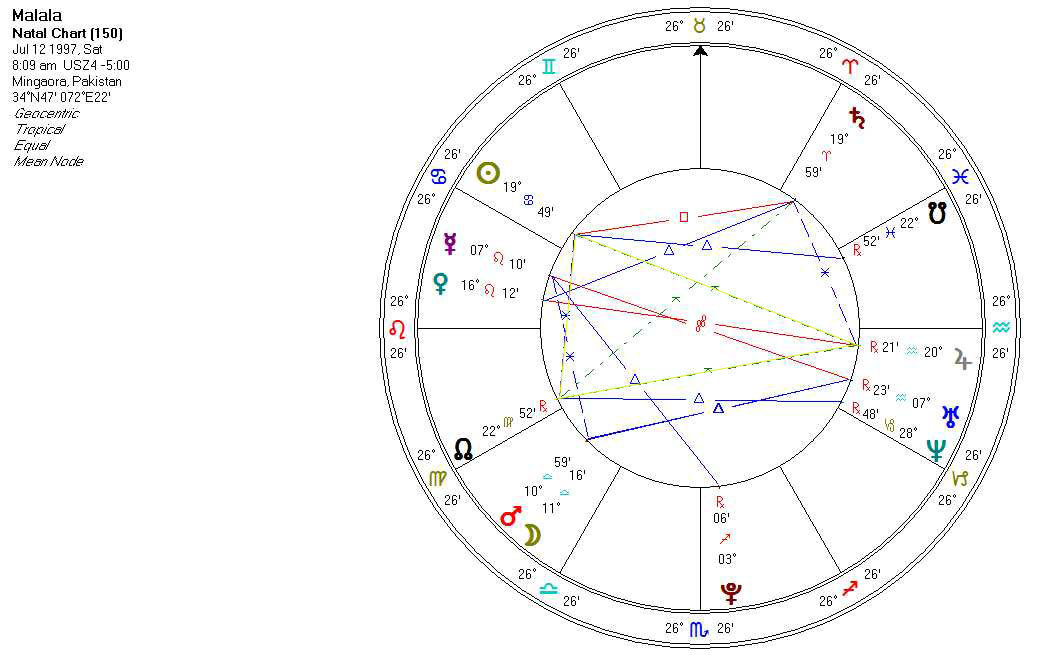 The unusual circumstances and opportunity, often seen in Yod pattern can be seen in how Malala came to fame. National Geography was looking for a school girl living in specific area of Pakistan – which was troubled by the Taliban – to write a blog about their experience. One girl who previously agreed to write the blog was prohibited by her parents due to fear of retaliation from the Taliban. So Malala's father, a school teacher asked his daughter to write the blog instead and very shortly it became a huge hit. In October 2012, in retaliation, Malala was shot by the militants and was critically injured. She was given medical treatment in London and survived to tell her story and to speak against the sabotage of women's education (update from commenter: Malala Yousafzai was actually treated in Queen Elizabeth Hospital in Birmingham UK and was given free education after her treatment at a private school in Edgbaston Birmingham).   The Yod can create circumstances that take on their own form and shape. In the 90 degree dial  below (inner ring is the natal chart, middle ring show the solar arc, and outer ring show the transits),  you can see that during the date of the shooting, the natal Jupiter and MC  which are part of the Yod are  triggered by the Solar Arc Uranus.
James Foley was a photojournalist who reported on war zones. He went missing on November 22, 2012 in Syria. He had gone there to cover the mass rebellion during Gaddafi capture – an opportunity created by the sextile –  but was abducted  by an islamic militant group. After missing for nearly 2 years,  they released a video showing Mr. Foley's beheading in August 2014,  which was apparently done in retaliation to US's air strikes in Iraq. This definitely accounts for a very exceptionally unfortunate situation where he just happened to be in the wrong place at the wrong time and ended up being a victim.  James Foley has 3 Yods and was destined for a karmic journey.  Read more on the Yod formation in James Foley's Chart.
Yods can Create Sharp Turns in Life
MC. Hammer, a famous rapper, grew up poor in small crammed up apartment with eight siblings. Then one day when he was 11 yrs old and selling stray baseball and dancing, he was spotted by Oakland A's team owner Charles Finley who hired him as a clubhouse assistant and he worked for the team from 1973 to 1980. Yods creates opportunities  from  "being at the right place at the right time" and it sure did for MC. Hammer who began performing very young at various clubs while on the road with the A's. He made a lot of money through his music career but due to bad investments and extravagant lifestyle, he found himself with $13 million debt and filed for bankruptcy in 1986. People with Yods sometimes experience such drastic ups and downs in life. If you look at MC. Hammer's chart below, he has a Yod between Sun, Saturn and Pluto (shown in yellow lines). Sun is the ruler of the 2nd house and so it makes sense that transits and progression to the Yod can involve financial changes.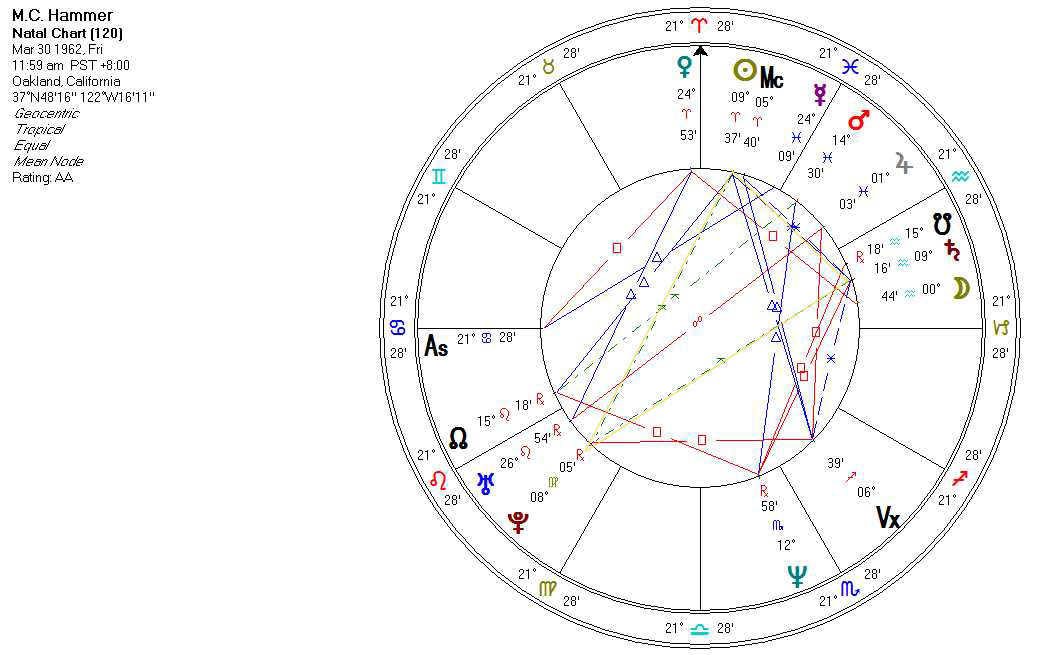 Yods Show Prodigies and Unusual Skills
Elton John started playing the piano at the age of 3, and within a year, he could reproduce complicated pieces of  music.  He started performing at parties and family gatherings at the age of 7 he took up formal piano lessons. At the age of 11, he won a junior scholarship to the Royal Academic of Music. Neptune is the planet for music and art and in Elton John's natal chart, it is involved in a Yod pattern between Moon and Mercury.   It's not surprising that Albert Einstein has a Yod too.  His Yod formation involves Uranus, Mercury and the North Node. Mercury Uranus combination usually stands for higher intelligence and creativity.  
Yods can create frustration  
Not everybody who has a Yod goes through extreme situations but there could be certain phases in their life when they feel the touch of an unseen hand (or the finger of god).  Sometimes with Yod, since the energies in the quincunx are not compatible, there are parts of oneself that feels not in control.  For example let's look at a person with a Moon in Libra making quincunx to both Mars in Taurus and Jupiter in Pisces forming a Yod.  The Moon in Libra in 12th  has the need to connect in a harmonious manner, but the Mars in Taurus in 7th may want to  rough it out with others and since both energies are blind to each other, there is a disconnect which may be expressed as extreme moodiness. The person may be very active but does not know when to stop to give some peace and quiet to the moon or the other hand the person can shut themselves off and not be aware of  Mar's need for some activity.   This can even  sometimes be expressed as a  bi-polar disorder or other kinds of illness,   With the second quincunx,  the Moon (emotions) in Libra may not understand Jupiter's more exuberant and over-confident energy.  So the planet in the apex of the Yod can feel frustrated in not being able to express its energy. However Yods are in some ways more communicative than a single quincunx aspect because they have 2 planets sextile to each other who are aware of each other  and acts as a bridge to connect the 2 quincunx planets.  So the person may get better at handling the energy over the years. 
DO YOU HAVE A YOD? HOW DOES IT WORK FOR YOU? DO YOU FEEL YOU ARE SOMETIMES GUIDED BY AN UNSEEN FORCE BEYOND YOUR CONTROL?  PLEASE SHARE WITH US.