This article, an honest view of  Uranus Transit, by guest writer – Phoenix Rose- Just another Plutonian!  You can also view  Part I of "Uranus Transits and Me"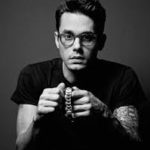 How much of my Mother 
Has my Mother left in me?
How much of my love
Will be insane to some degree?
This brand new song from John Mayer's album, 'The Search for Everything'" is so much like Uranus transiting in Aries. Interesting how the whole album makes sense and resonates with what I am going through in the current Uranus transit in Aries. Especially, all things related to how I have changed, and how my take on love has changed. My experience feels like John Mayer albums.  John Mayer has a super-stellium Libra with Sun, Mercury, Ascendant, Pluto and North Node in his first house of ego and self-image. Yes, opposite my natal Aries Sun, Mercury and Venus!  So as the current transiting Uranus in Aries has been conjunct my Aries Planets, it is opposing his Libra Planets. So it makes sense why his songs click for me and why his songs have influenced my views on love and the kind of relationships I have had.  It is as if we are both learning to embrace Uranus at the same time, and his change can be seen through his lyrics over time.  Also, I have a trine aspect between Venus and Uranus in my own natal chart and it is exact. Sudden attachments and sudden disappearances have been part of my learning about love and relationships.  It took me this Uranus Transit to acknowledge and accept this.
Like many of his previous albums, this album too is about him… his relationships and how he has evolved through them. His critics characterize his lyrics as being 'too pop' and revolving around same old stuff like failed love and break-ups. I say it is actually interesting because he is a Plutonian and if one closely listens to his albums, one can see the transformation from a boy (who perhaps, a tad bit self-absorbed) to a man who craves simplicity in the midst of Plutonian complexity. Pluto and Uranus, along with Neptune are giants in terms of Pop Culture impact. If Neptune is mystery and Pluto is passion, then Uranus in pop culture is all about owning it like a boss!  
First Album – Idealistic Love:  When his first album, 'Room for Squares' was released, the lyrics were about him seeking an idealistic love. 'My Stupid Mouth' (my favorite song in this album) is a breezy number where he analyses his penchant for saying things where they shouldn't be said, even though he secretly enjoys it. 'No Such Thing' is an idealistic gaze as he says-
 I am invincible
As long as I'm alive
Second album, 'Heavier Things'- On becoming a celebrity:  It is about his celebrity status, and how he looks at the same. The last lines of the song 'Something's Missing (and my favourite from this album) says-
Friends, check Money, check
A well slept, check, Opposite sex, check
Guitar, check,  Microphone, check
Messages waiting on me when I come home, check
Third Album, 'Continuum' – Introspection: The third album moves from the Personal to the Universal.  It is from his third album onwards that this shifting becomes his trademark – when he actually starts embracing the outer planets.  While still drawing from his personal experiences, it is also introspective about how love is Universal;  what he feels is not just his own but is the core of our being; and that all of us go through love in all its insanity, in our lives. The elements of Blues and Soul are unmistakable. 
 Fourth Album – Intense: His fourth Album is named "Battle Studies'… again named so aptly. Emotions are a battleground for all Plutonians and Uranians, and Mayer is no different, in this regard. As the album suggests, here he studies the battleground with a searing Pluto intensity. Here he is a very attached- Plutonian, and detached – Uranian. He embraces his weirdness with this album. To know what I mean, do listen to songs, 'Perfectly Lonely', 'Heartbreak Warfare', 'Who Says'… actually the whole freaking album. It is also his best album to date, and the most underrated, one that will have a cult status in the years to come.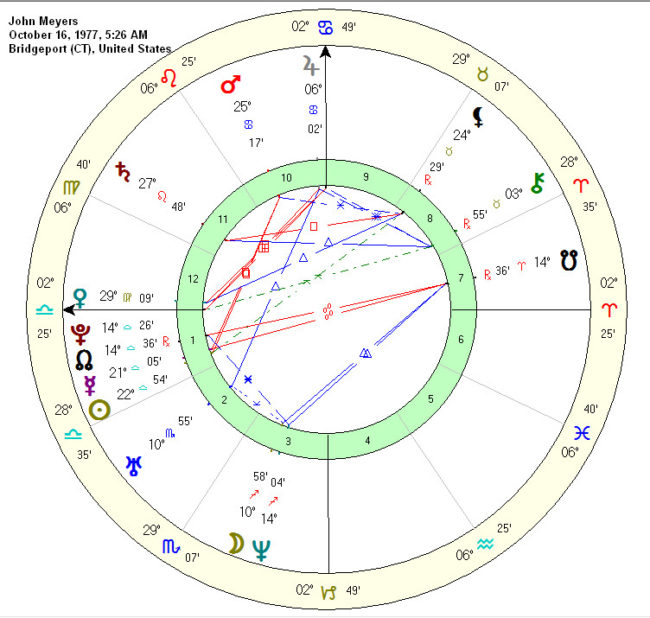 His natal Uranus is in Scorpio in the second house in a wide trine with Midheaven. It is clear then that he will earn money (2nd house) through his Pluto intensity and Uranus analysis, and that will have an impact in Pop Culture (Midheaven theme). His tightest aspect is Pluto conjunct North Node in Libra, which is not an easy energy to deal with. North Node is our life path in this current lifetime. This has a karmic quality to it. It is his destiny to write about himself (South Node in Aries and self-absorbed) and his relationships for the whole world to listen to (a key Libra theme) As I read his chart, I find it interesting how Pluto, Uranus and MC are caught together. It's as if he will destroy himself if he does not write about his feelings and his relationships. 
Recent Album – March to your own drums: In 'The Search for Everything' album,  he really is on a search for everything.  It is an album that is aptly named because there is a sense of stepping away from his comfort zone. Also, Uranus has passed his South Node in Aries… South Node represents our comfort zone and one where themes repeat on a loop in various lifetimes.  It is not surprising that his album came after this transit to his South Node. The song 'Changing' makes it clear as he writes,
I am not done changing
Out on the run, changing
I may be old and I may be young
But I am not done changing
Aries is the first sign of the zodiac… a pioneering sign in all sense of the term, and always in search for everything. To sum up, I will say that I feel like John Mayer is part of me… we have grown up together in our unique Uranian-Plutonian ways. There is no fear to love and the heart decides what it wants. Like one of his songs 'Say'… this Uranus in Aries transit is all about-
Take all of your wasted honor
Every little past frustration
Take all of your so-called problems,
Better put 'em in quotations
Say what you need to say
Say what you need to say
Say what you need to say
Love to hear about your Uranus Transits and if any of John Mayer's songs ring true during this period. Please Share in the comment section below.